Young Stars


||

CEFR: Leading to A1-A1
Young Stars is a brand new primary course in British English. It follows the modular approach and the requirements of the Common European Framework of Reference.
Young Stars is accompanied by World Watch, a video course specially designed for young learners.
World Watch consists of eight episodes per level. Each episode includes the presentation of the key vocabulary and the presentation of language structures.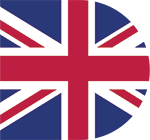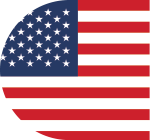 Young Stars comes in two editions, the American English (AmE) edition and the British English (BrE) edition.
Select the edition you prefer in order to see the levels, the components and table of contents.
course features
Well-balanced modules with songs, stories, factual texts, cross-cultural information, cross-curricular learning and skills development
A variety of activities (listening, speaking, games, short writing activities with grammar practice, hands-on activities and projects)
Revision units
Comic-strip stories
Self-evaluation sections
Star skills section
Board games
Phonics
My alphabet book
Videos
STUDENT'S BOOK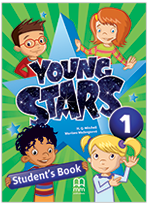 WORKBOOK + STUDENT'S AUDIO CD/CD-ROM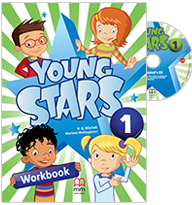 ALPHABET BOOK

TEACHER'S BOOK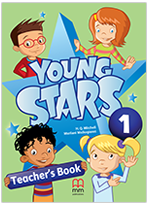 TEACHER'S RESOURCE CD/CD-ROM

CLASS CDs

FLASHCARDS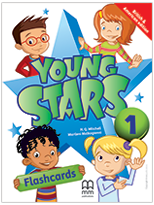 POSTERS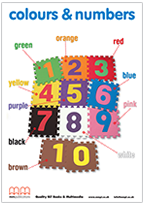 IWB MATERIAL

ONLINE MATERIAL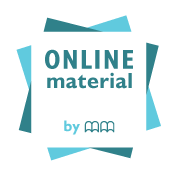 Coming soon. Available for all levels.
To view the complete syllabus of topics, functions and skills for each level, click on the corresponding Student's book.
sample pages catalogue
Downloadable promotional material with sample pages of our books and instructions on how to use them to help you improve your teaching skills.
course features
Well-balanced modules with songs, stories, factual texts, cross-cultural information, cross-curricular learning and skills development
A variety of activities (listening, speaking, games, short writing activities with grammar practice, hands-on activities and projects)
Revision units
Comic-strip stories
Self-evaluation sections
Star skills section
Board games
Phonics
My alphabet book
Videos